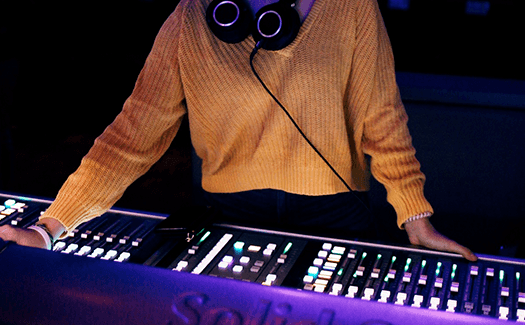 God's message never changes, but our methods in spreading His word are ever-evolving. The Technical Arts Practicum trains students in the skills required to deliver the Gospel in the most compelling way possible.
Learn to engineer and mix audio with specialized digital audio consoles.

Learn to design and utilize specialized lighting with event-specific lights.
Learn to direct live video shoots through effective set design, lighting design, audio engineering, and training in live video playback.

Learn to design and budget for both small and large scale AVL operations.

Learn to lead and value team members, celebrating the skills they each bring.
Audio Basics

Live Broadcast Basics

Basics to Lighting Design

Ministry DNA
Portable Audio

Video Engineering and Camera Directing

Lighting Programming & Playback

Ministry DNA
Audio Tools & Techniques

Advanced Video Engineering & Live Event Management

Design Process

Ministry DNA
Advanced Mixing Techniques

Advanced Video Processing & Distribution

Advanced Programming & Design

Mentorship with Assigned Campus
Want to learn more about being an HC student? Sign up for our email series.