At Highlands College, we are dedicated to equipping graduates to make an impact by sharing the gospel and being the hands and feet of Jesus to the world. We could not be more proud of our many graduates who are fulfilling that mission in more ways than we could have imagined.
Cameron Robinson, a 2020 Highlands College graduate, recently visited HC to see faculty, staff, friends, and the new campus. During his visit, he shared, "Highlands College helped shape me in many ways. It has helped prepare me for the Ceremonial Guard because it, too, is a center of excellence. Highlands College taught me to do everything with excellence and with the thought of others in mind."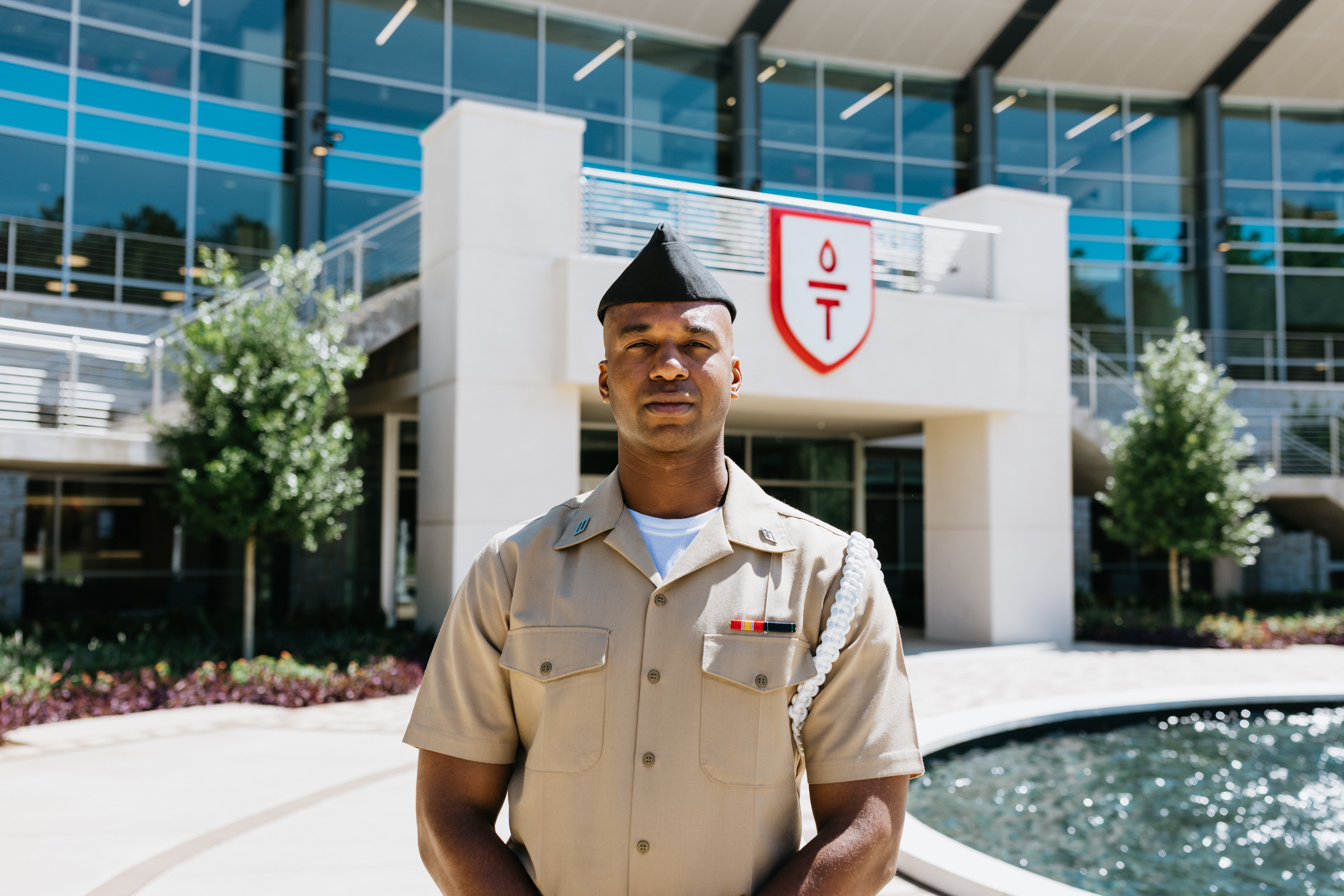 Cameron Robinson is from McCalla, Alabama, where he attended McAdory High School. Upon graduation, Cameron attended Highlands College. He graduated from Highlands College in 2020 and has since been appointed to serve as a U.S. Navy Ceremonial Guardsman. The U.S. Navy Ceremonial Guard's primary mission is to represent the service in Presidential, Joint Armed Forces, Navy, and public ceremonies in and around the nation's capital. Members of the Navy Ceremonial Guard participate in some of our nation's most prestigious ceremonies, including Presidential inaugurations and arrival ceremonies for foreign officials.
Cameron received a lot of love, honor, and gratitude during his homecoming campus tour. He even connected with our very own U.S. Air Force Brigadier General, Edward D. Casey, who serves on the team at Highlands College as Senior Advisor to the President in addition to his duties.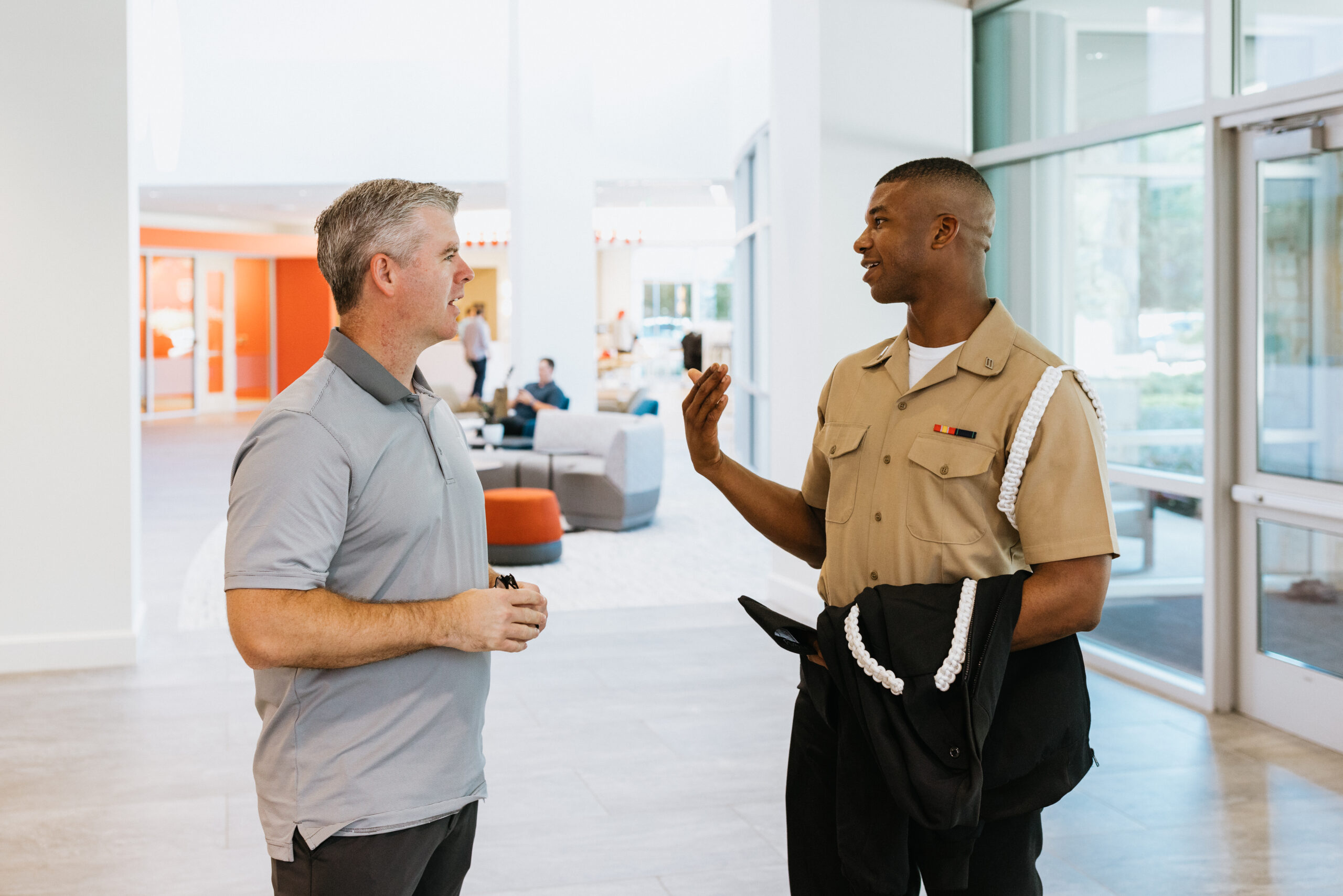 Cameron talked to various team members about his experiences about some of the things he has learned and gained through training and since joining the U.S. Navy Ceremonial Guard. He commented, "It changes you, but in a good way."
He went on to say he holds himself to an even higher standard now because "the line cannot slip for any reason. There are no excuses."
When asked why he chose to join the Navy after graduation, Cameron replied, "I joined the Navy to do something different with my life. I wanted something that would challenge me and make me grow in a way that only the military could. I joined the Navy because I wanted to travel and serve people. Serving in the Navy means putting others before myself, growing connections with people, experiencing the cultural diversity of this world as I travel and experience their countries and ways of life, all while I work a job that challenges me daily."
He shared that after graduating from Highlands College, God put people around him to spark his interest in the U.S. military. He stated, "God was calling me to it. I just had to remain in Him, and He led me to it."
Cameron went on to say, "I wanted to do exactly what I am getting to do. I just never thought I would be serving God and people the way I am getting to do it. God's plans are incredible. He is faithful."
Cameron is now preparing to become a Naval Chaplain and is able to minister to others during this new season. He and his friends found an ARC Church in Washington D.C. and decided to visit. He encouraged and brought fifteen friends to join him on the visit. It was the first time in a church service for six of the fifteen men who attended. Cameron said, "They are all now saying they are committed and want to go to church every Sunday. Even though I am not a Commissioned Officer yet, God is using me right where I'm at."
Highlands College Chief of Operations, Jordan Williamson, who served as Cameron's small group leader, told Cameron, "We are proud of you, we love you, and you represent HC well."
To all of the veterans and their families in our Highlands College and Church of the Highlands family, we are thankful for the opportunity you afford us to live, work, and worship freely. Because of your sacrifice and service, we have the privilege of training educated, equipped, and empowered leaders to be leaders and ministers of the gospel in various occupations worldwide.
Happy Veterans Day, #hcfamily.