From gathering furniture for refugees and international students to conducting a prayer walk throughout an entire city, the Highlands College Family of students, alumni, faculty, and staff gathered to serve and make an eternal impact one project at a time. Read on to hear just a few of the amazing stories of what God did through Serve Day 2023.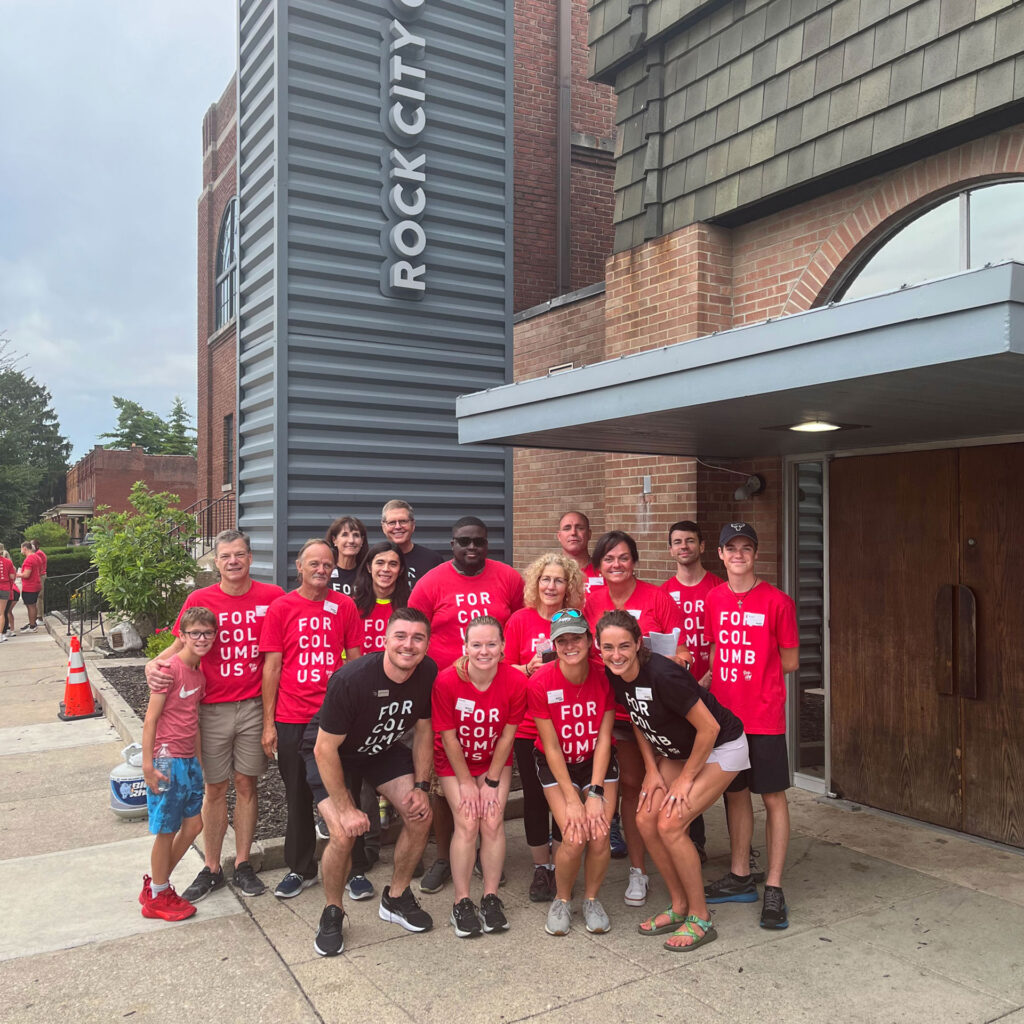 Rocky City Church organized a prayer walk throughout Columbus, Ohio while also supplying care packages and lawn care to bless those in the community.
"Serve Day at Rock City Church was incredible! We had over 1,000 people participate church-wide with care packages, teams on prayer walks around the neighborhood, and lawn care around the schools. Our team ran into someone on our prayer walk who was deaf, and we had a member who spoke up and knew sign language. She was able to sign the prayer to her. Overall, it was an incredible day to show the city of Columbus, Ohio, the love of Jesus!" – Christian Pruitt, Class of 2021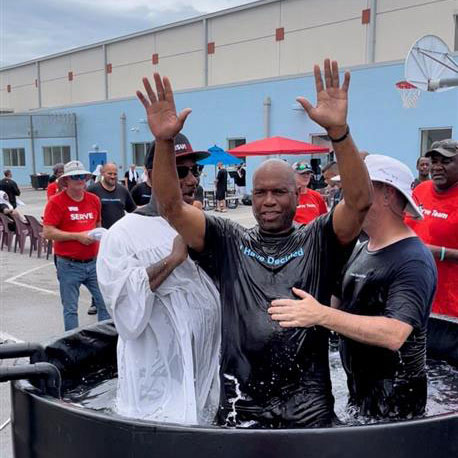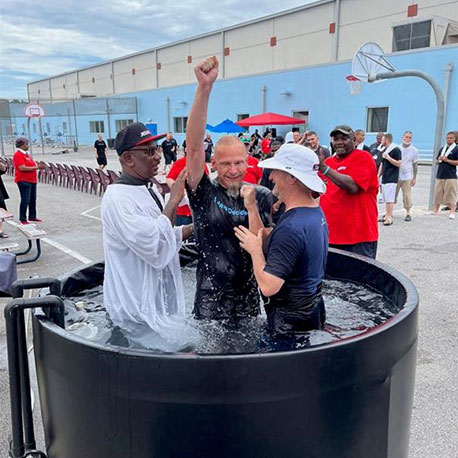 The Highlands Correctional Team banded together to prepare meals and celebrate the baptisms of 121 inmates.
"Together, we served over 1,300 hot dogs to the 612 male and female Alabama Therapeutic Educational Facility (ATEF) inmates. ATEF is the only private prison in the state of Alabama, and its mission is to prepare inmates for reentry through personal and professional programs. Through our regular Sunday mornings, small groups, and Serve Day activities, doors were opened for the 50 Serve Team members to have conversations about Jesus and His love, and because of the generosity of the Riverchase and Greystone campuses, and their willingness to share their baptismal, we were able to baptize 63 female inmates and 58 male inmates. God is working in the darkest places for His light to shine!"
– John Cespedes, Assistant Professor of Biblical Studies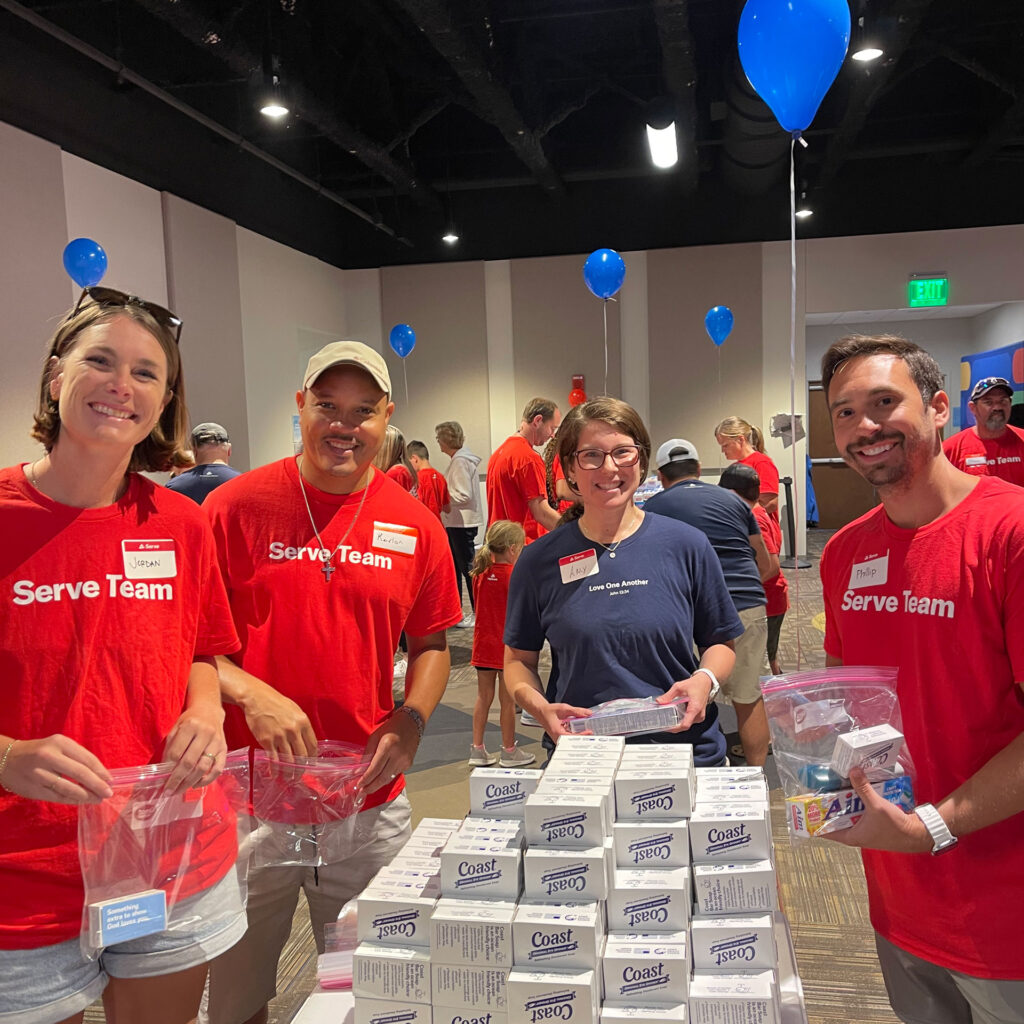 Bri Hauger, a current Highlands College student, worked on two serve projects with the Highlands Correctional Team. Not only did she assist with serving ATEF, but she also took part in packing hygiene kits for women in the Tutwiler correctional facility.
"I started out the day at the Montgomery Campus, packing hygiene kits for our church family in the correctional facilities. We packed them with toothpaste, bars of soap, deodorant, lotion, and ChapSticks. At this serve project alone, 4,250 kits were made for those we serve in the facilities… Then I went to ATEF, and one girl at this facility shared her story with me and explained that Church of the Highlands changed her life. She said she remembered when she had first attended one of our services… she just wanted to be treated normally and genuinely cared for. She was so thankful for Church of the Highlands and said she wouldn't be where she was today if it weren't for what God was doing through the church. What a blessing it was to pack hygiene kits, watch the women get baptized, and spend some time with them hearing their stories. You could see the joy of the Lord in those ladies' eyes, and His light was shining bright in those facilities on Serve Day 2023!" – Bri Hauger, Current Student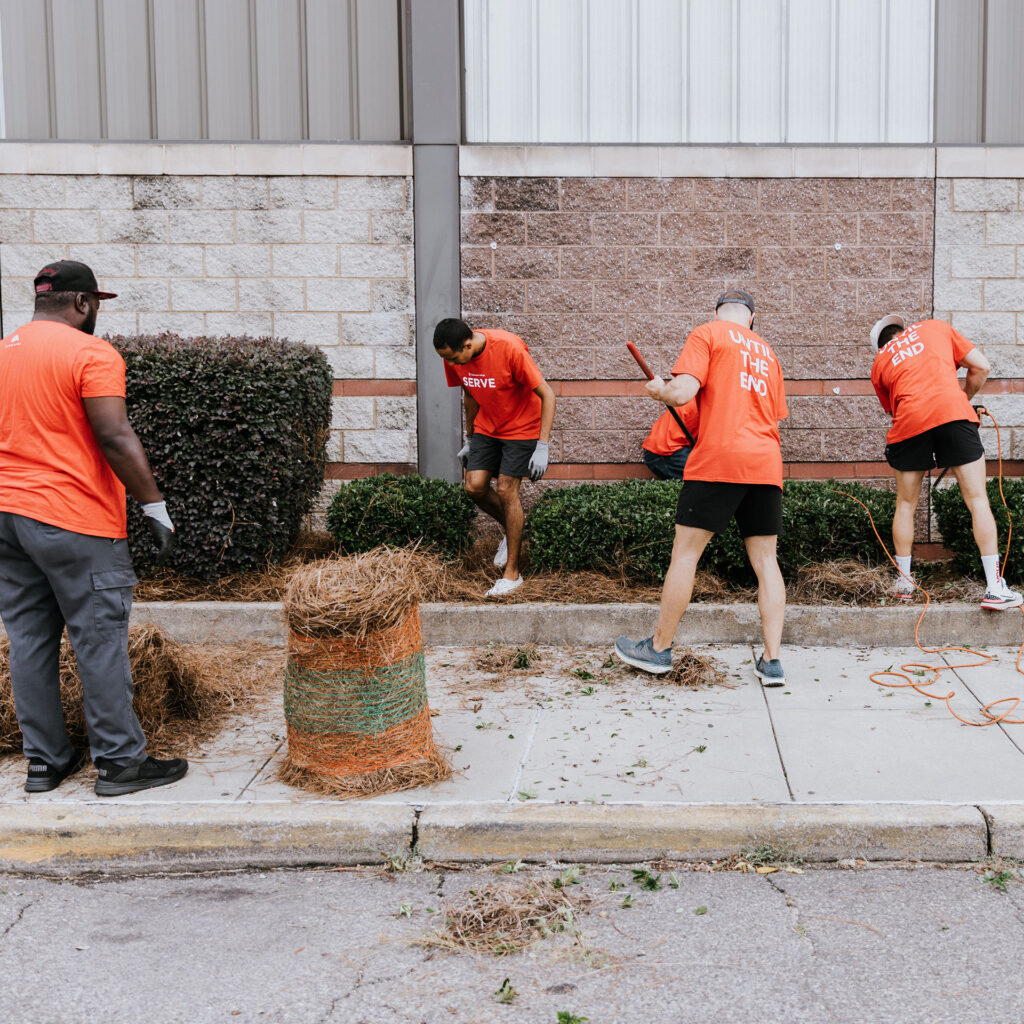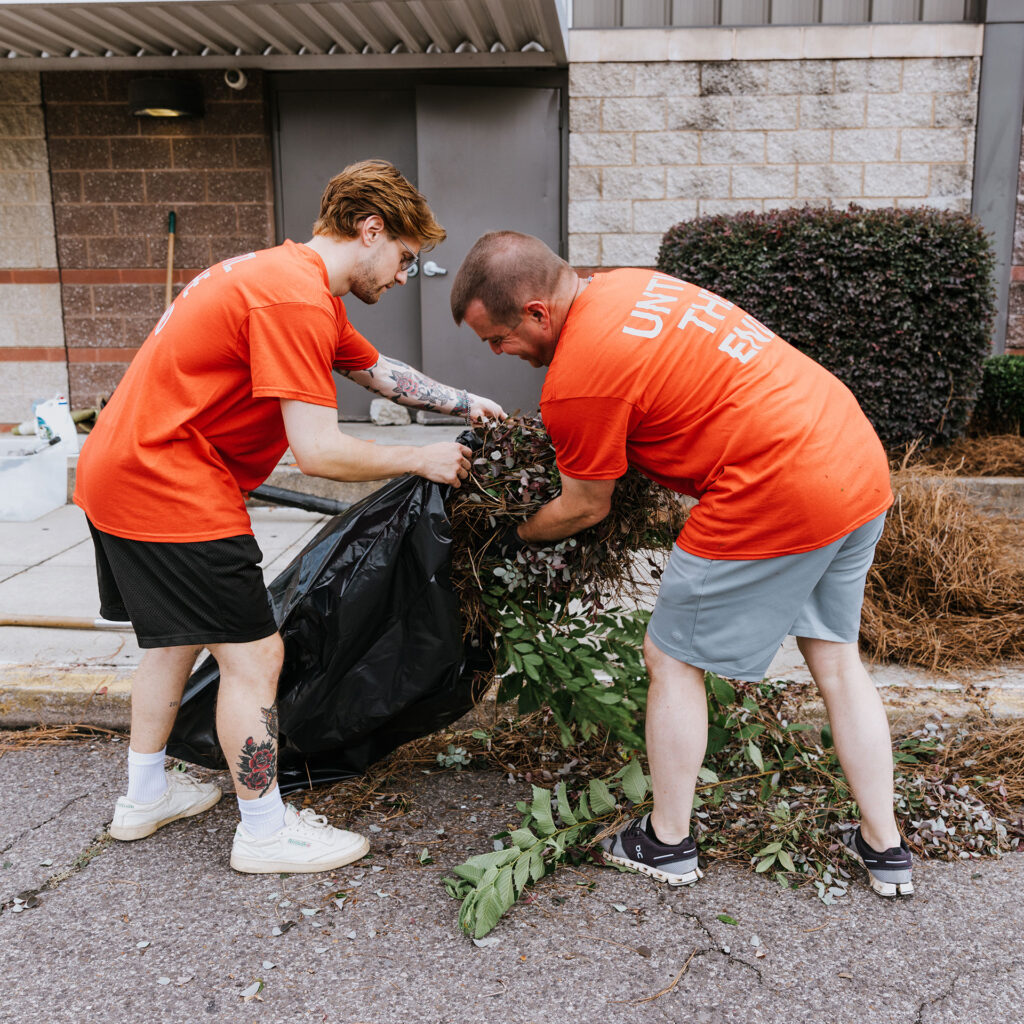 Another Serve team traveled to Restoration Academy, a faith-based private education facility that provides quality education to predominantly lower-income families, to assist in upkeep for the school.
"I got to paint, plant flowers, and help clean out closets, but it was so much more than that! I also had the opportunity to meet a former graduate of the school, Mr. Jones. He told us his story of how God used the school to impact his life. He mentioned how he wants to know God and go back to church. He then took the time to serve with us. While serve day blesses others, it blesses us too."
– EK Sansom, Current Student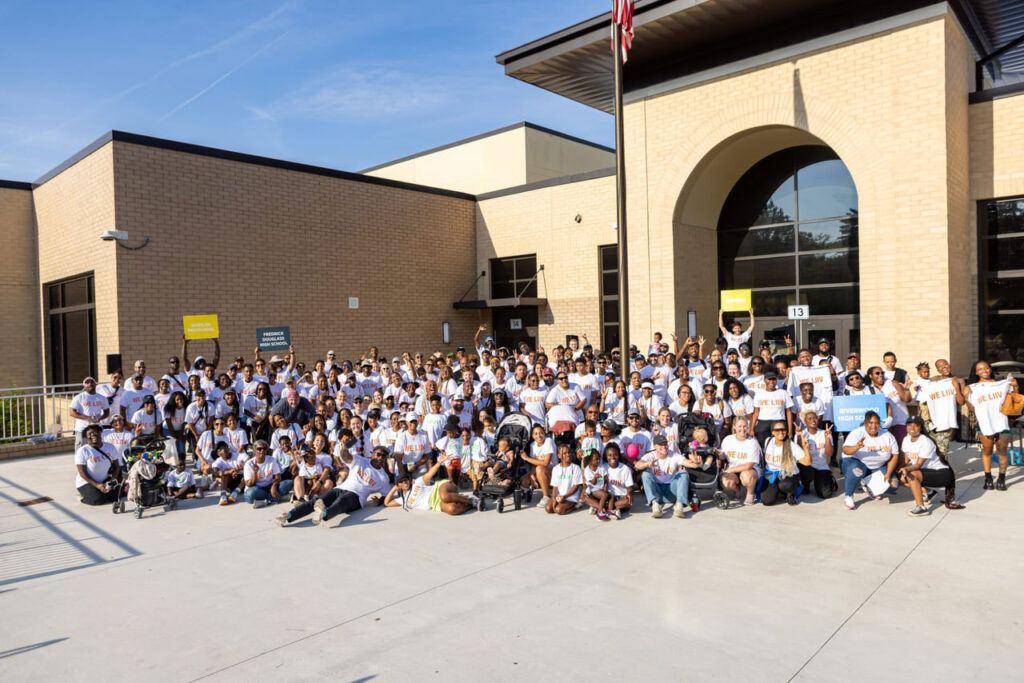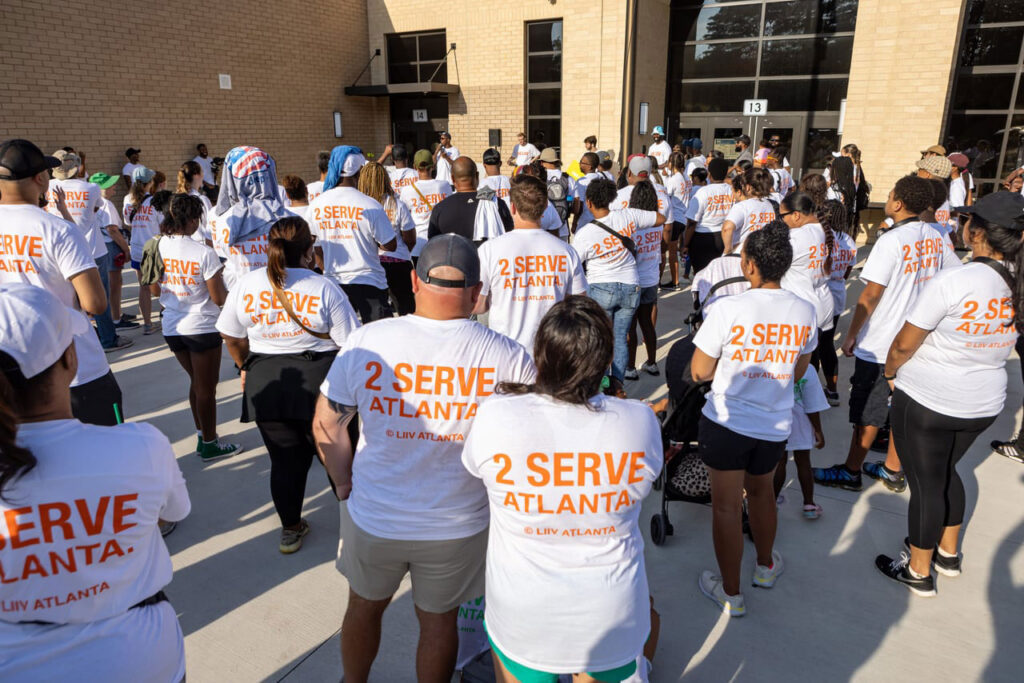 LIIV Atlanta, a church based in Atlanta, Georgia, partnered with seven schools to clean, plant flowers, paint, rebuild, and more.
"We had over 240 people come to serve and sent out 30+ to each location. Many people who came to serve were new faces, from kids to parents to young adults. It's not typical in Atlanta to see a 20-something going out, picking up branches, and painting early on a Saturday morning. It was immensely impactful to see everyone unified around the church and being the hands and feet of Jesus to our communities. At one of our sites, we had some influential people in Atlanta from our team posting on their social media about Serve Day. That morning, we had about 10 new people show up to serve just after hearing about it from our team. It just shows the people of Atlanta are hungry for Jesus and community. The first Serve Day at LIIV ATL was one to remember and an honor to be a part of!" – Samantha Cheek, Class of 2021
Several Highlands College team members came out to gather, clean, and transport furniture to prepare for the needs of refugee families and international students.
"This Serve Day, Highlands College had the opportunity to care for one of the biggest needs of immigrants: furniture. We were especially pleased to be serving the refugee community for the first time with Inspiritus. We also collected enough donations to give towards a Furniture Give-Away done annually for International Students at UAB, where donations will be given in the name of Jesus. The hard work of moving, taking inventory, and organizing all the furniture, not only will bless those who will receive it, but also the organizations that work so hard to serve these immigrant communities. We ended the day by delivering a washer and dryer to a Colombian refugee family. Inspiritus workers told us their most immediate need was a washer and dryer, which we did not have. But a church member randomly reached out to me, asking if we needed one that day! It was a miracle and was only made possible through the intentional generosity of members of Church of the Highlands. I look forward to seeing how God continues to use our college and church to serve their needs and tell them about our amazing God."
– Jackie Pettus, Missions Coordinator